Engagement Models
Cyclosys offers multiple engagement models to meet diverse needs of its global clients. Our clients can choose from any of the generally accepted models mentioned below or a combination of these for different phases of your IT projects. Our team can work with you to customize a model to address your specific project needs. Some of the popular engagement models that we offer include:
Project Based Pricing or Fixed bid
Time and Material
Build-Operate-Transfer (BOT) Model
Onsite Delivery Model
Hybrid Delivery Model
ODC Partnership Model
Dedicated Development Center
Offshore Model
Offshore Development Centre
Partnership
Lab on Hire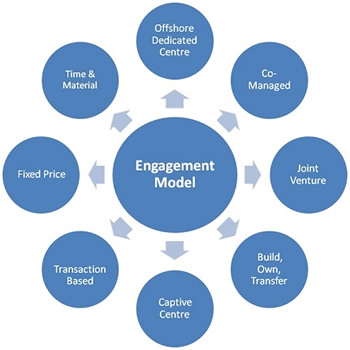 Any of these pricing models can be applied to our suite of services in ingenious ways for the convenience of our clients.
Project Based Pricing or Fixed Bid
Costing:
Fixed cost based on milestones
Best When:
Project requirements are very clear-cut
Project Team will be a significant addition to existing team or all of it.
Team's capabilities are well known.
Benefits:
Agile possible as well if customer is fully engaged in the development process.
Maximum cost savings potential as onus is onto us to deliver in-time on-budget.
Risk mitigation.
Project Delivery within specified time frame.
Calculated cost with desired quality.
How It works:
Based on the project specifications received from customers, we prepare a proposal that will cover specification documentation, visual aspects, application design, testing, change management, communication protocols, milestones, warranty period, and commercial details. Our business analysts work in close collaboration with customers in order to specify a realistic development plan based on project's complexity, planned budget and proposed timelines.
Time and Material
Costing:
Based on the project cost incurred by the resource usage in a particular time period
Best When:
Projects with varying scopes due to which precise cost estimation is a complex task
Projects with evolving specifications, undocumented business processes and emerging technologies.
Complex and Large scale projects are best executed using this approach.
How it Works:
This engagement model can be adopted at any phase of the project such as pre-specification, post-specification, post-architectural design, etc. and can demand problem definition, solution definition, business analysis, , research, specifications, architectural design, visual mapping, documentation, coding, testing, change management, rollout and support & maintenance.
Benefits:
Adequate scope modification during execution
Regular update on progress and process based on which customer can plan forward to squeeze or expatiate the project.
Project resource continuation, knowledge retention and complete check over resources and processes.

Allows customers to access experienced IT services at a predictable cost while focusing in-house resources on strategic priorities.
Resource protraction, knowledge retention and complete control over processes and resources.
Build-Operate-Transfer (BOT) Model
In the Build-Operate-Transfer (BOT) Model, we offer a dedicated facility to the client. This facility is more like an extension of client's own facility. The dedicated facility allows clients to leverage our world-class technical infrastructure, processes and execution capabilities. The dedicated facility is staffed either by existing Cyclosys resources or client's resources or resources hired specifically for an engagement / project or a mix of all these, depending on our clients' preferences. Cyclosys has a well-defined mechanism and requisite infrastructure for a long-term and successful engagement.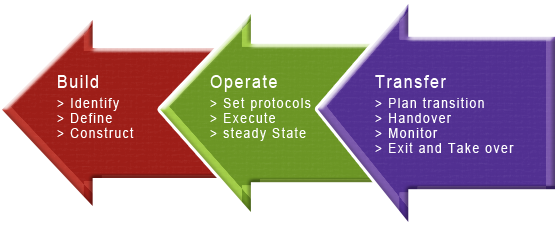 Onsite Delivery Model
The onsite delivery model entails that skilled professionals are deployed on the client's premises. This delivery model is viable only if fluidity is required in a project, if there is need for a specific resource type or if post-deployment support is imperative. From initial consultation to maintenance and support, our representatives are highly qualified and combine excellent business acumen and strong inter-personal skills.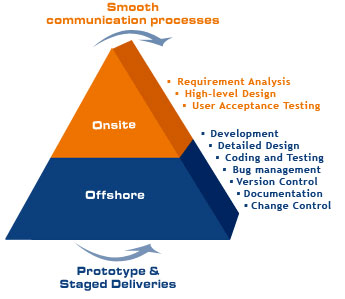 Hybrid Delivery Model
This model, a combination of both onsite and offshore, is the best of both worlds, and results in optimized costs and maximized efficiency. The onsite team will directly interact with the clients and will serve as consultants, program managers and developers, depending on project requirements. They will do requirement studies, design and development, while interfacing directly with clients. The offshore outsourcing team will interact only with the onsite team and will provide additional crucial support, thereby reducing costs and implementation time. The model allows for scalability and has enormous operational benefits.
ODC Partnership Model
ODC Partnership Model aims at creating relationships with customers who seek long-term services. Our model involves the creation of a dedicated offshore development unit comprising engineers who have or built domain expertise in specific areas. This ensures continuity within the project and iterative use of components while continuously upgrading to market requirements and effectively addressing business critical issues like our clients' time-to-market pressures.
Dedicated Development Center
Once the resource demands reach a level that is relatively significant and predictable, it may make sense for Global Takeoff to establish a Dedicated Development Center (DDC) specific to your organization. A DDC provides all of the benefits of an experienced, capable engineering team without some of the common constraints.
We maintain a team that is committed to your projects. This team retains intellectual capital on your technologies and products. Over time, our value to your organization increases as we become more intimate with your products and markets. In fact, many of our customers have benefited from product enhancement suggestions and patents that have been submitted and approved by our engineers for our customers.
Offshore Model
Under this model, all project development, from initial study to testing, is executed from our offshore facility. offshore delivery model is beneficial where customer are looking to quickly ramping up the team, reducing the cost, exploiting the advantages of the round the clock working, and/ or reducing risk attached to new product development. The model works well in scenarios where the objective of the project are well defined and there no or minimum deviation from this during the course of Project Development. The Project Management and communication is the responsibility of the Project managers/ Delivery Managers, who work using well-defined process centric templates and procedures to ensure that delivery is as per schedule.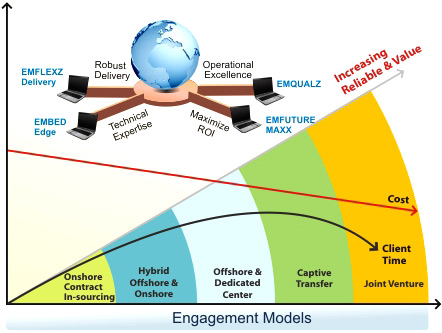 Offshore Development Centre
The ODC model aims at creating long term substantial business and commercial advantages to the clients. Under this model a dedicated team of professionals are created to form a team as per the need of the projects. The composition of the team can change during the course of the project as per the different stages. The model works as an extension of the client's own development team allowing them full transparency and control on the team. The model allows the client to achieve long-term benefits as the knowledge base in the team working continuously on the project ensures in optimizing the efforts. The team adheres to client's business goals, product development practices, processes and communication.
Such a model is perfect for Product Development Companies whereby it allows them to ensure that the team within their ODC is continuously upgrading to market requirement and effectively addressing critical business issues and allowing the clients to reduce the time-to-market.
Hybrid Delivery Model is the most popular model used in the projects for best value creation, the outsourcing work is distributed between the customer onsite center and the offshore development center & thereby the client gets the advantage of both types of outsourcing models. It is one of the most successful and popular outsourcing models employed today by Global Takeoff, since the distribution between onshore and offshore can be managed based on the needs of individual project
The distribution of work depends on the type of project. Usually 20-30% of the work is done by the onsite center and the rest is done by the offshore development center.
Generally, the tasks accomplished at the onsite center include:
Gathering initial information about the project through direct interaction with the client.
Understanding the requirements/specifications clearly.
Planning, Architecture and Initial designing as to how the project will go about.
Interact directly with the clients to accommodate any changes, if there are any, so as to minimize/eliminate last minute changes.
Execution/Implementation of the project in accordance with client's expectations and making sure that the client is fully satisfied with the deliverables.
Communicating with the client and managing partnership.
Tasks accomplished at the offshore development center include:
Understand the specifications and come up with a detailed design.
Responsible for the progress of the project.
Ensuring that the outcome matches to the specifications given by the client.
Crucial and continuous support to the onsite center.
Partnership
Partnership: In this model, initial development cost is shared by us. Later we take a mutually decided percentage from profits earned from the project. This model suits to customers where investment capital is less. You have the concept and business and we help you with technology. In all, it is a win-win situation.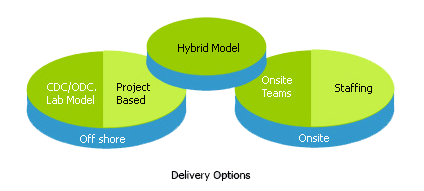 Lab on Hire
Costing:
Daily or hourly rates based on type of project resource engaged
Best When:
Want to grow your team with more resources.
Uncertain of exact requirements.
Starting off for the first time.
How It works:
This engagement model is initiated with the identification of customer's requirements in terms of project volume, technology, complexity and infrastructure, which is followed by SLA (Service Level Agreements) in order to determine team composition as well as working methodology. The project resource roles and skills matrix define the costing.
Benefits:
Access to a highly adequate resource pool having expertise across a range of technologies and domains.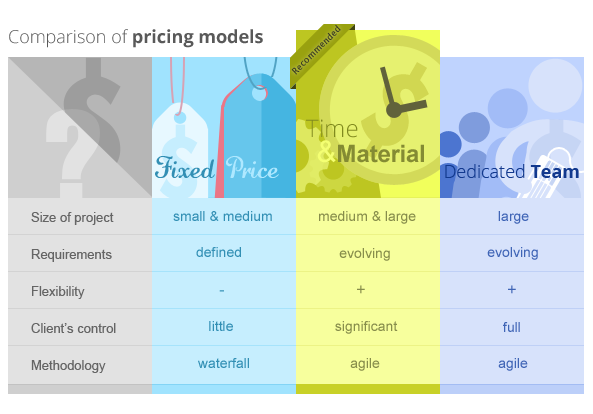 Cyclosys partners with you to build your Ideas. For a free quote, reach us at [email protected].